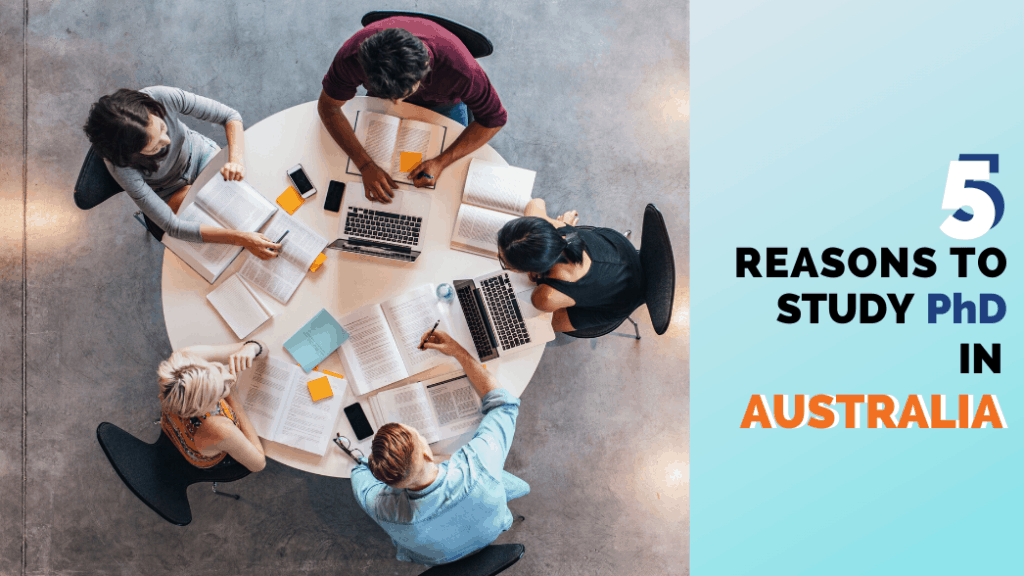 Students across the world these days are quite passionate about research. Many of them pursue a Ph.D. as they want to learn and research about a particular subject and make significant impressions within that field.
A Ph.D. is a learning journey, which helps in understanding and developing one's potential.
A doctorate of philosophy is a research and thesis-based course. This degree involves choosing a specialization of your choice and researching it. This course aims to develop a thorough understanding of your chosen subject and find the relevant methodologies in which it can be used further.
Why Study PhD in Australia?
With the increasing trend of pursuing education abroad, Australia has quickly become a top host, especially for Ph.D. Studies.
With world-class research centers andinternationally ranked universities, the country is a vibrant hub for its research courses. A PhD. in Australia means that you will develop your knowledge and skills, which ultimately increases your chances for employment within Australia and in any country.
According to the UN's Education Index, Australia's education system ranks first. The average length of the Australian PhD is 3.5 years. It gives the best research experience, well-recognized university reputation, highly advanced laboratories, and a proper PhD completion.
Reasons to Study PhD in Australia
Better Career Prospects
Studying a PhD in Australia opens the door for several opportunities with varied employment options. Whether you would like to choose to work in the academic sector or enhance yourself to work in the industry, a PhD can be a beneficial factor that would boost your career prospects.
This will have a positive impact on the work front and also on the research handled. You are allowed to live and work in the country for at least four years upon the successful completion of your PhD Studies.
A Natural Attraction
Australia's stunning natural attractions are spread across the country. The Aussieland is home to 19 World Heritage Sites, and architectural landmarks.
Australia has been regarded as 'The Heaven on earth because of its exquisite scenery; whether you want to live in the midst of lively cities or walk around in vibrant outdoors, the choice is yours. International students usually have a long list of beautiful places to visit in Australia.
Amidst your working thesis, the Whitsundays in Australia can be your weekend tropical paradise. With a mocktail in one hand and your research work on the other, this is the perfect place to de-stress. 
University Life
Universities in Australia are established with a well-organized system. Every year, there has been a constant rise in the number of international students to study PhD in Australia.
When it comes to PhD studies, universities take the utmost care of the research quality. From Environmental Studies at the Great Barrier Reef to Earth Sciences at Fraser Island, there are plenty of unique PhD opportunities in Australia.
Because of the numerous course options available, students can choose a subject in which the research can be done. Also, Universities provide free scholarship options to ease out the expenses for international students.
Better Process flow
PhD is a research-based degree that would take 3-3.5 years to analyze and submit your thesis. When you choose a PhD degree, it will be the only course on your everyday schedule. As you will have only one research subject to wholly focus on, you can utilize your free time to engage in your favorite activities.
The thesis submission process is quite straightforward. After thorough analysis and intense research, you will have to submit a copy of your thesis to an examiner from your University and to another international examiner. There won't be multiple checks which makes it a simple process, unlike other Ph.Ds in different countries. Corrections are to be made if any changes suggested and then submit the final thesis.
Fees and funding
The Government of Australia estimated that the average cost of studying a PhD is less than $42,000 per year.
PhD. students have several funding options. They receive scholarships from the universities and also from the Australian government.
The scholarship norms generally depend on University policies. PhD students are expected to meet the eligibility criteria to avail those benefits.
Requirements for admissions in Universities
Any aspiring student who wants to get a PhD admission in an Australian Universities must have completed a 3-4 year graduation degree, along with a two years master's program. You also should have a decent score in English Language proficiency tests.
Researchers are the most prominent endorsers in learning new things. The outcomes of your PhD research depend on your emotional and intellectual investment.
Make it worthwhile by opting to study in Australia. Shape up your career with the best education.