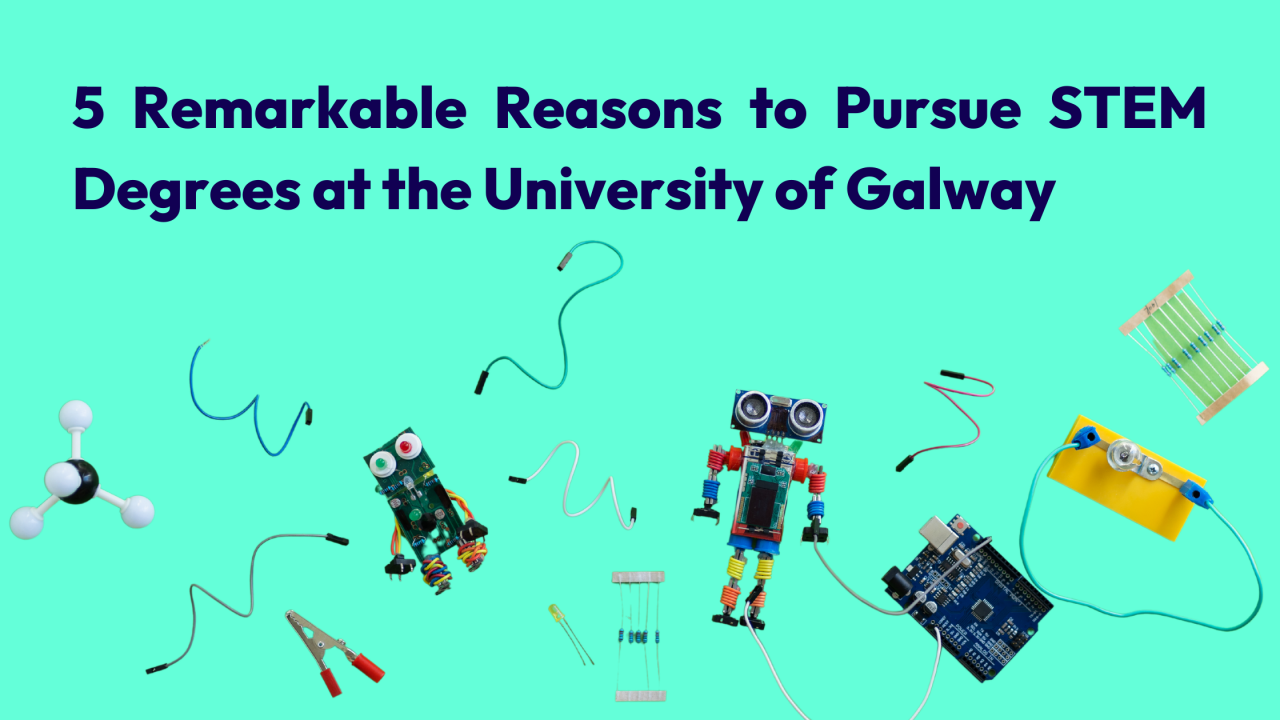 Science, Technology, Engineering and Mathematics (STEM) are four very popular and fundamental disciplines taught by universities and educational institutions worldwide – from Astronomy and Nautical science to Biotechnology and Fintech, a wide range of subjects fall under the orbit of STEM courses.
STEM courses, given their popularity among aspiring graduates, have a lot of variety and specialization choices to suit varying interests and knowledge areas. For this reason, countries globally promote STEM education and encourage international students to apply for and specialize in STEM courses.
One of the top 10 countries to pursue STEM education, Ireland is one of the most rewarding study-abroad destinations with multiple universities and top-notch research centres to facilitate extensive research and proficiency in any chosen STEM field.
Let's discuss five unmissable reasons why you should pursue STEM courses at the University of Galway, one of the best universities in Ireland.
What's Precious About the University of Galway?
With a rich history spanning two centuries, the university is the Sunday Times University of the Year in 2022, known and credited worldwide for its research facilities and commitment to quality teaching.
Here's more about the University of Galway:
One of the top 300 public universities in the world, according to the QS World University Rankings 2023, NUI Galway is a pioneer in research-active and challenge-driven education across multiple disciplines and subjects for the benefit of students worldwide.
One of Ireland's top universities, NUI Galway, has a graduate employability rate of 98%, with most graduates employed within six months of graduating.
Centre for Adult Learning & Professional Development provides professionals with an opportunity to enhance their knowledge and skills through specially curated courses provided on a standalone basis instead of a longer course programme. This allows students to complete the course in a shorter period while providing a credible pathway to upskill and learn.
The university provides multiple undergraduate, postgraduate, professional development, and online learning courses through its 4 Colleges - College Of Arts, Social Sciences, & Celtic Studies, College Of Business, Public Policy And Law, College Of Medicine, Nursing & Health Sciences, and College Of Science And Engineering, and 19 Schools with over 60 academic disciplines.
Why You Should Pursue STEM Courses at the University of Galway
The College of Science and Engineering has five schools catering to the following disciplines - School of Biological and Chemical Sciences, School of Computer Science, School of Engineering, School of Mathematical and Statistical Sciences, and School of Natural Sciences.
These schools have dedicated research centres for the relevant academic disciplines and skilled teaching faculty to ensure the highest standards of teaching and learning.
Research-Intensive - One of the top 1% research-intensive universities, NUI Galway offers a wide range of career-oriented postgraduate, undergraduate and PhD degrees in STEM courses. Whether it is formulating life-saving drugs to combat disease; designing energy-efficient processes to reduce CO2 emissions; to robotics and artificial intelligence, the university has a world-leading research infrastructure to support and encourage your academic pursuits.
Scholarships - Region-specific scholarships to merit-based scholarships, the university offers multiple scholarships to deserving individuals based on a mix of academic achievements and interest in pursuing a course at the university. Also, the Johnson & Johnson WiSTEM2D programme, with its commitment to developing and implementing high-impact strategies, encourages and supports female students undertaking STEM2D degree courses at NUI Galway.
Career Guidance - For effective career guidance and development, the university provides career support services to help graduates find the right career path abroad. Career Connect provides students with pathways to learn, explore and discover career opportunities that best suit their academic interests.

Real-Time Learning - One of the university's core objectives is to enable students to gain practical knowledge in real-world contexts. To this end, the university provides multiple pathways to promote real learning through curriculum, volunteering and researching real-world problem projects.

Access Programmes - The university offers multiple access programmes for School Leavers (22 or under) and Mature Access Students (23 or above) on the University Campus, as well as the outreach centres to help underrepresented students to enhance their eligibility to pursue an undergraduate/master's degree at the university.

Eligibility
While some courses might have specific prerequisites, here's the general eligibility for students applying for STEM courses in the university:
Minimum GPA of 3 in the core subjects with a minimum 6.5 overall score in IELTS, with no component below 5.5.