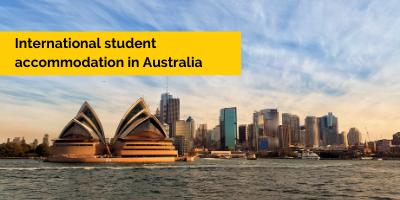 A new year calls for new things, fresh ideas, innovative thoughts, and new beginnings! Australia is a favorite study destination for students worldwide. One of the main concerns for international students is finding the right accommodation.
The Great Southern Land - Australia offers different and affordable international student accommodation options.
Studying abroad should be an exciting experience. Sure, while planning your study abroad journey, you may face some stressful situations. But don't let student accommodation be one of them! If you're a student who wishes to study in Australia and thinking about international student accommodation, this article is just for you.
After some intensive research, we've managed to curate a list of all the international student accommodation details. So scroll through the list and find your best bet now!
Important things to consider while finding international student accommodation:
What is the budget?

Should you live with others or alone?

What are your daily commuting options?

Reside nearby market/restaurants?

How to secure accommodation?
Student Accommodation in Australia:
There are four main choices for student accommodation in Australia.
On-campus residences

Off-campus student-specific managed apartments(fully furnished)
Off-campus rented apartments (usually not furnished)
Homestays
1. On-campus residences
The On-campus residences are offered by most of the Universities in Australia. These international student accommodations can be either individual rooms or shared ones. But the facilities for this type of accommodation are always shared.
Most Australian universities provide comfortable, luxurious, and furnished on-campus residences.
Why choose On-campus residences?
The support staff is available.

Since international student accommodation is on campus, you don't need time to travel to the University.

You get to live in a safe, secure environment. 
2. Off-campus student-specific managed apartments (fully furnished)
Off-campus Student residences are furnished rooms in residential buildings owned by the Universities. You will see students from different universities staying together in apartments. These apartments come in various styles, from a studio to a six-bedroom!
Off-campus student accommodations are an outstanding choice for the students, as they are affordable. They also provide various facilities like furnished living spaces, dedicated study areas, gym facilities, etc. 
Why choose Off-campus residences? 
It provides an opportunity to socialize and make friends.

The support staff is available at all times.

This type of international student accommodation is usually close to campus, so you spend less time traveling.

You get to live in a safe, secure environment. 
3. Off-campus rented apartments (usually not furnished)
Off-campus & unfurnished accommodations are a trendy international student accommodation type in Australia. In this, you can rent a property and reach out to many agents who can help you find apartments.
Since you would be staying on your own, you will need to pay a security deposit, usually, rent for four weeks. Also, most of the time, private rentals are not furnished, so you will need to buy your furniture.
Off-campus private rented accommodations are the finest accommodation option for International students who want to lead an independent life and explore the country while studying.
Why choose private rented accommodation?
It makes it easy to make friends and socialize.

You live in an environment entirely designed by you on your own.

You can be your boss by opting to live alone, or you can stay with your friends in this accommodation type. 
 4. Homestays
An Australian family offers to provide a room to an international student who pays a rental fee in a homestay accommodation type. This includes family support to an international student and allows the student to experience life as part of an Australian family. You can apply to become a Homestay student at most Australian universities via the University's Accommodation Services.
Why choose a Homestay?
It's an excellent way to improve your English and learn some Aussie slang!

You'll make new friends and discover what Australians are like.

Homestays are excellent options to get rid of homesickness.

A Home stay is a perfect choice if you want to live with an Australian family and experience a new way of life.

You are given a pleasant room of your own. 
Suggestions for international student accommodation in Australia:
Finding student accommodation can take several weeks, that's why it is recommended to arrive a couple of weeks earlier.

Book your temporary accommodation in advance to have a place as soon as you land in Australia.

Research the student accommodation options online before you arrive.

As soon as you arrive in Australia, visit the International student Accommodation Services Office at the University.

Keep some money handy to pay for your rental advances. 
Forgot to pre-book your student accommodation online? No worries.
As soon as you reach Australia, you will find numerous affordable hotels and hostels. You can stay there temporarily until you find your new home. There are many many student accommodation options available! So get to know what each type offers to make the right decision.