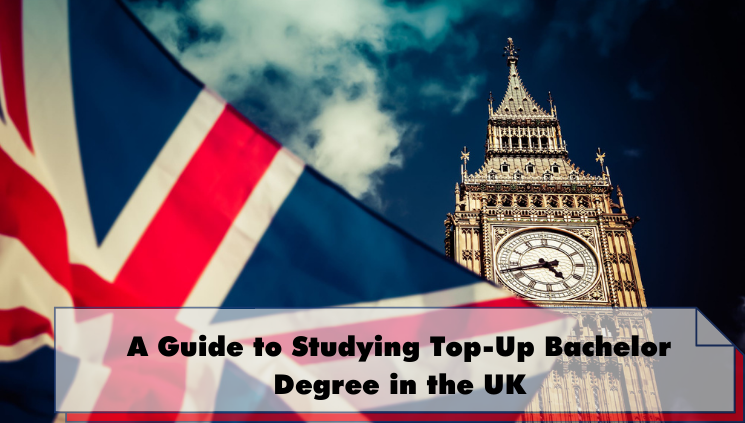 Did you know? The United Kingdom welcomes over 3,42,000 international students annually, and most of these students are from South-Asian countries! International students who travel to the UK for pursuing graduate or postgraduate courses have 100+ recognised universities to choose from.
Some of the most popular areas of studies that international students opt for in the UK include Business and Administrative Studies, Social Studies, Medicine and Allied Studies, and Creative Arts. Some of these courses come with an added option of a top-up degree in a few UK universities.
Want to know more about the top-up degrees in the UK? We'll take you through the different top-up degrees and courses available for international students. Read On!
Top-Up Degree: What is it and how does it Work?
A Top-Up Degree is equivalent to a final year undergraduate degree. Suppose you already have a Level 5 education (graduated), you can opt for a Top-Up Degree and gain admission to the final year, which means that as a student, you can complete Level 6 of education in 1-year compared to the standard 3-years.
It is also possible to study a Top-Up course after completing National Qualification Framework (NQF) Level 5 (like a foundation course or Higher National Diploma and its similar equivalent).
If you are concerned about the value and recognition of a Top-Up Degree, rest assured that they are recognised the same way as other full degrees.
Top-Up Degrees help add value to your existing Level 5, and they make you career/ job ready by providing you with all the necessary skills and knowledge you would need to excel in the field.
Some students also do a Top-Up Degree if they wish to pursue a higher degree in a different subject within the same field, and the top-up will give them an insight and in-depth knowledge of the said field. For instance, a student pursuing hotel management can top-up for a hotel and travel management.
Top-Up degrees are well worth applying for as they:


Enhance Skills
Offer extensive knowledge
In-depth understanding of the subject
Paves the way for higher education
International Recognition
Courses
Top-Up Degrees are a great way for students to make the best out of their bachelor's degree. Students who pursue a Top-Up course may also graduate with a BA (Hons) or B.Sc (Hons), depending on the university and course.
Students who opt for top-up degrees are usually those who wish to land a job right after graduation. Some of the common subject areas that students typically opt for a top-up course are:
Art and Design
Information Technology
Nursing, Physiotherapy, Occupational Therapy
Hospitality, Tourism, and Events Management Business
Economics and Management
Building Services
Engineering
Although these are some of the most common areas of study for a top-up, you can always do extensive research to see the equivalent or available options for your chosen field of interest. It is also important to note that each top-up course has different eligibility criteria depending on the area of study.
Although Top-Up degrees may not be available for all courses, it is an excellent investment for those subjects where a Top-Up can add value.
Eligibility
The eligibility and entry requirements vary depending on the university and course. Still, some of the most relevant and standard requirements for all Top-Up Degree programs to study in the UK are as follows:

Students must have a relevant Foundation Degree from a recognised university or institution.
An appropriate 2 years in BA (Hons) or B.Sc (Hons) degree from an accredited university.
Relevant Higher National Diploma (HND) from a recognised institution.
International Students and non-English speaking students must have an IELTS score or a recognised equivalent of 6.0 to apply for a Top-Up Bachelors Course.
Note: Students must have relevant education and qualifications to apply for a Top-Up course.
Fees and Course Duration
Top-Up Courses typically take 1-year to complete, but it may also extend up to 16 months in some cases. It is essential to research before applying and make necessary arrangements for enrolling in your favourite university. Students are expected to attend 10 to 15 hours of classes a week, extending or being shorter depending on the course requirements.
Top-Up degrees do not cost as much as a regular 3-year degree due to the shorter course duration. A top-Up Bachelor's degree from a recognised university in the UK can cost from £4,500 to £6,000, and this does not include exam fees and material fees.
When planning your budget as an international student, it is always wise to have a buffer amount to cover any unexpected expenses.
Career Scope and Salary for Graduates
In some cases, it has been observed by educators and employers that a 3-year bachelor's degree may not always add more value than a vocational training course. Therefore, a hybrid model helps students strike a balance between theoretical knowledge and practical experience.
Students get so much more out of a Top-Up degree than pursuing a foundation or a regular bachelor's course. Besides, students with Top-Up Degrees are much more likely to get employed upon graduation than those who did a standard degree.
Students with a Top-Up degree have an upper edge to perform better in their chosen field as they have the practical skills and knowledge required to advance and excel in the field.
Upon graduation, students can expect an average salary of £24,000 a year. Although this number can vary greatly depending on many factors; including job type, employer, industry, and location.
We've compiled a list of some of the industries and the base salary in that that industry for graduates below:
| | |
| --- | --- |
| Industry (Bachelor's Degree) | Salary |
| Arts | £15,000–£19,000 |
| Banking and Accountancy | £23,180 |
| Business, Marketing, and Management | £17,000 – £23,000 |
| Engineering | £27,500 |
| Computer Science | £27,000 |
If you are looking to enrol in a Top-Up course in the UK, get in touch with our expert counselors and start your application process today!