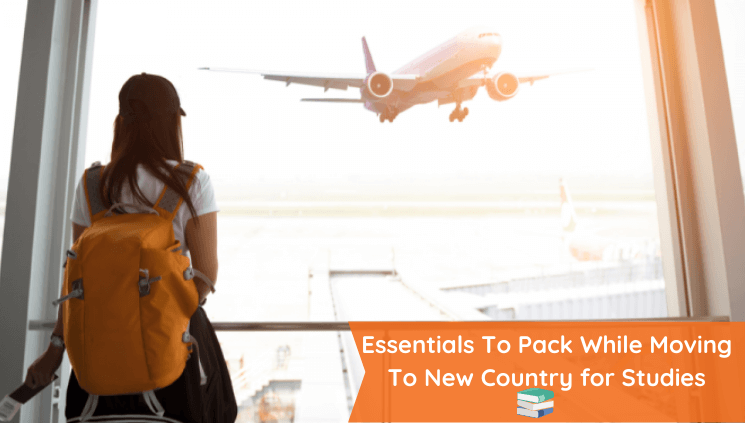 Phew! You finally bagged that seat in your dream university, all set to fly to a whole new country. You're probably overwhelmed and not ready for the next crucial step- PACKING! To make the process less complicated, here is an organized checklist of all things you will have to fit in your suitcases.
Before heading straight into the categories, here are some packing tips.
Make a personalized checklist with the help of this blog and keep adding things to it during the course of packing. Follow it throughout.
Organize your things into two sections. The things that will go into your carry-on luggage and the things that will go into your suitcases.
The carry-on luggage should contain all things that you will need during the plane travel and as soon as the arrival, such as travel/other important documents, sanitisers, masks, charger cable, power bank, snacks, cash, etc.
Check your luggage weight and make sure it doesn't exceed the limit.
Discard things that you can buy locally in your destination country if your baggage exceeds the limit.
Add a pop of colour to your baggage with a tag or scarf so that it is easier to find it on arrival.
Do a final checking with the list you made initially.
Most importantly, keep contacts of people you know in the new country handy, just in case of an emergency.
Documents
Passport, visa, and air ticket - these are the travel essential documents you should have in your carry-on luggage. The next most important thing is the university documents. Carry copies of your admit letter, entrance test mark sheets, immunization documents, and all that your university demands. Pro-tip: keep all your documents together in a folder, well organized, categorized and handy.
Medications and Safety Kit
SAFETY FIRST! Sanitisers, extra masks, and an alcohol-based disinfectant will serve as the basics. If you want to be extra cautious, you can go ahead and carry gloves, a face shield, etc. Carry your prescribed medicines/vitamins if you follow any. A doctor's prescription (if any) can help you to get your medications in the destination country, in case you run out of them. Apart from that, a basic medicine kit containing band-aids, pain killers, cotton, and other basic first aid items will help you get through minor health emergencies.
Needless to say, electronics are an absolute necessity. The basics would be your gadgets, portable chargers, plug adapters, and most importantly- a UNIVERSAL CHARGER. It's most likely that the sockets in your destination country are different from those you have back in your home country, and a battery-dead phone is the last thing you want to deal with after a long tiring trip. If you're carrying a camera, take enough SD cards along. You do not want to miss out on freezing some moments from your travels abroad! It's advisable that you keep all electronic/technical stuff in a separate bag in order to avoid mess during the security check.
It's vital to keep your money safe and secure, especially while you are travelling abroad for education. To not constantly worry about losing your money, plan the way you're going to carry it. Choose the most convenient and secure option, after discussing it with your bank agents. Debit cards, credit cards, traveller's checks, etc. are the most chosen ones. Keep in mind to exchange the currency well in advance. It can be done at the currency exchange agencies or even at the money exchange kiosks at the airport. It's not advisable to have excess cash in hand. However, a decently filled wallet is essential to keep during emergencies.
Pack your clothes according to the climatic conditions and the culture of the country you're flying to. Do not go overboard with this one, as you might end up revamping your wardrobe with locally bought clothes in the new country. Grab extra pairs of comfortable shoes/soles. Don't forget to add at least one fully formal attire, you might need them for any important events at your university.
Students moving abroad generally find it difficult to adapt to a completely new food culture. You will most definitely miss the taste of home food in a matter of a few days. Pack snacks that have a good shelf life for a few weeks. Also stock up on your favourite instant noodles, spices, etc.
Carry a bit of home with yourself! It is probably going to be your first time being away from home and family for a long period. Carry little things from home that are close to your heart. Maybe a photo album or the little toy that you carry will make you feel closer to home across miles. If you are being hosted by a family, get them a present from your home country.
All that hard work, late-night study sessions, brainstorming has paid off. Now breathe, and get ready to take off. All the best to you for starting a new chapter of your life.

It's only onwards and upwards from here on. Bon Voyage!
Want to know more about studying and living in your preferred study abroad destination? Connect with us right away! Our expert counsellors will help you in making your dream a reality.