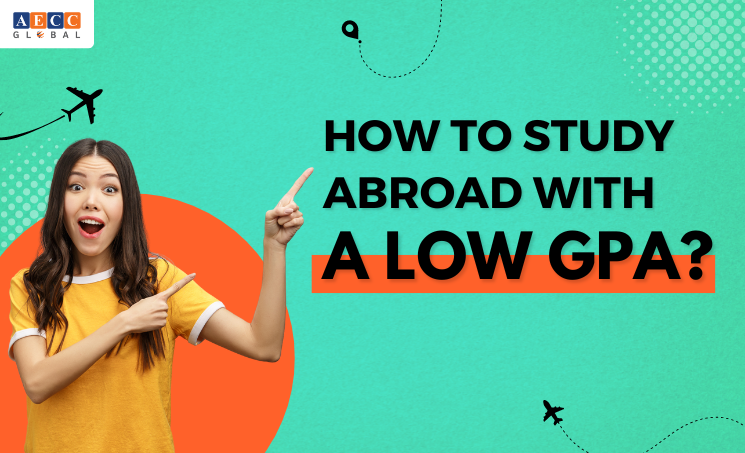 Yes, you read that right. Knowing how to study abroad with an excellent GPA score isn't rocket science, whereas fulfilling your study-abroad dreams with a low GPA takes some extra effort, and this is where expert guidance is most needed.
A low GPA drains the colours from your study-abroad aspirations, and it hurts, doesn't it? But that doesn't mean that you still cannot plan your study-abroad journey for higher education that you've dreamed of. As befuddling as it sounds, the concept is pretty simple - incentivize on your strengths and underplay your weaknesses.
With the proper guidance and academic support, a low GPA would no longer cast a wet blanket on your higher education abroad. We shall dive right into this in a bit.
But before we do, it's crucial to know the metrics for low GPA scores in different study destinations worldwide.
The table below indicates the range of GPA scores in the most popular study abroad destinations.
| | | |
| --- | --- | --- |
| Study Destinations | GPA scores (high in CGPA) | GPA Score (low in CGPA) |
| UK (out of 4) | 3.3 to 4 | 3.2 or lesser |
| USA (out of 4) | 3.9 or higher | 2.0 to 3.0 |
| Canada (out of 4.5) | 2.5 to 4.5 | Lesser than 2.5 |
| Australia (out of 7) | 4.9 to 7 | Lesser than 4 |
| New Zealand (out of 9) | 7 to 9 | Below 5 |
| Singapore (out of 3.5) | 3.0 to 3.5 | Below 3 |
| Malaysia (1 being the highest) | 1 to 6 | Above 7 |
If your GPA is falling on any of the lower categories mentioned above, worry not. There are other ways to prove your mettle, and we shall get into it right away!
Want to Study Abroad With A Low GPA?
Here's How!
While GPA is one of the important factors in deciding your worth for higher education in universities abroad, there are other metrics that you can use to secure a spot for the course of your dreams!
Let's look at this as the alternative approach, a plan B. What would you do if you missed scoring high in one area? Naturally, focus more on the areas you scored better on, right?
So, let's start by focussing on core strengths:
Let's say you're interested in pursuing a Public Relations and Communication course, and you're a bit below the bar due to poor grades in maths or science. You can still apply for the course by highlighting your grades in core subjects like communication, management, and public policy.
This will help convince the university that you'll excel in the chosen field because the preferred course is more inclined towards your strengths.
You can also benefit from competitive tests:
Yeah, so you have a low GPA, but you could have a high GMAT or an excellent GRE/SAT score which would move you up the ranks for higher education abroad. Or, if you want to pursue Journalism, a portfolio of published samples would be a bonus. For those in creative fields, a certification course or a certificate of internship would add value to your application.
Also, nothing screams dedication better than hands-on experience:
Practical experience and internships to improve your work skills and subject knowledge is a golden ticket to higher education opportunities abroad because universities prefer students with practical exposure in the fields related to their area of expertise.
So, if you have a few months of experience apprenticing in your core subject, then you can highlight that on your SOP right away!
Oh, and did you know about Pathway Programmes?
Pathway Programmes are one-year or two-year programmes (in some cases) designed by universities abroad to help international students meet the academic requirements and overall eligibility criteria to pursue higher education abroad.
Most universities in popular study destinations like the USA, UK, Australia, Canada, New Zealand, Malaysia, and Singapore offer Foundation Year and Diploma programmes for aspiring overseas students to enhance their eligibility for undergraduate courses abroad.
You can enrol in a pathway programme to advance your knowledge in your preferred course(s) to gain guaranteed entry into some of the best universities abroad.
Here are some of our partner universities that offer pathway programmes for overseas students:
Universities

Study Destinations

The University of New South Wales

Australia

The University of Adelaide

Monash University

Thompson Rivers University

Canada

University of Canada West - GUS

Yorkville University

Auckland University of Technology (AUT)

New Zealand

The University of Waikato

The University of Auckland

University of Sheffield

UK

University of Bristol

University of Leeds

Arizona State University

USA

Illinois State University

University of South Florida

INTI International University and Colleges

Malaysia

Monash University Malaysia

Kaplan Higher Education Academy

Singapore

James Cook University
Another way to highlight your strengths would be to make your Personal Statement as appealing as possible:
A Personal Statement is where you can:
Highlight your achievements such as skill/course completion certificates, language proficiency, and extracurricular activities.
Include details of community service or any volunteering for public welfare, explaining why these activities are meaningful to you.
Explain your reasons for applying with a low GPA score and the reason behind the low score.
Give a roundup of your strengths and interests and how they help with your academic pursuits in the university and meet your career aspirations.
Alternatively, you can also explore study-abroad programmes with a low GPA requirement:
The following study-abroad programmes encourage overseas education in prime destinations like the USA, UK, Rome, and Shanghai with fascinating semester abroad options!
Institute for Study Abroad (IFSA): You may have a low GPA, but that doesn't mean you cannot study in interesting locations like London, Rome, Shanghai, or Buenos Aires because the IFSA's campuses offer courses with a minimum GPA requirement of 2.5!
International Studies Abroad (ISA): This institute offers many courses, including summer courses and semester-abroad programmes like the Lima Peru program, which gives you a once-in-lifetime chance to experience the Machu-Picchu and the Amazon rainforests! All you need is a minimum GPA of 2.5. Now, wouldn't that be memorable?
Universities Study Abroad Consortium (USAC): With summer-abroad programs and internships in over 28 countries, USAC offers an incredible opportunity for international students to explore courses on Language, History, and Culture with a minimum GPA of 2.5!
Simply put, a low GPA is not the biggest hurdle for your study-abroad dreams. If you want to study abroad but feel pulled down by a low GPA, then remember the above methods to gracefully highlight your core strengths and make your prospects appealing to the universities abroad.
AECC Global has partnered with some of the most reputed universities worldwide to help students achieve their academic goals.If you are willing to pursue higher education abroad and need guidance on how to proceed with it, contact our expert counsellors right away!
FAQs:
1. What is the minimum GPA for studying abroad?
Universities in the USA require a GPA of 3 on 4 (below 2.8 is considered low), and other countries require a CGPA of 6.5-7 on 10 (below 4.5 is considered very low).
2. Is it possible to study abroad with low GPA scores?
Yes. Universities generally prefer good GPAs but also offer study-abroad courses and programmes with a minimum GPA requirement.
3. Is having a good GPA mandatory for pursuing education abroad?
Not entirely. While a good GPA is crucial for higher education abroad, it is not the only requirement. There are other factors like community service, practical exposure, pathway programmes, etc., that universities consider while accepting applications from students.