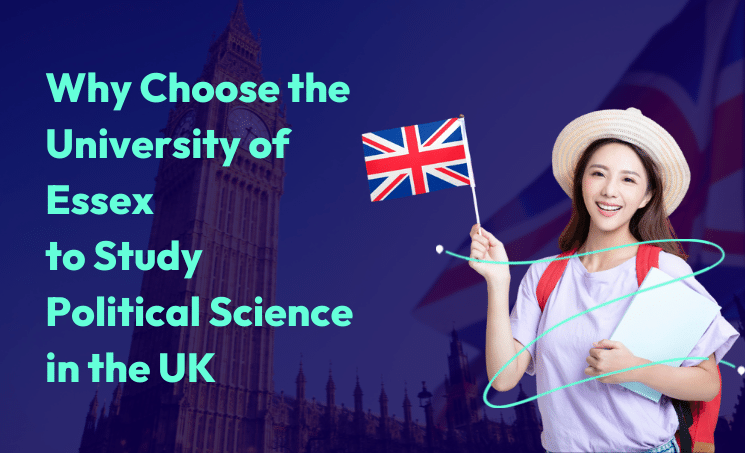 Understanding the political climate in any environment would be a bit challenging if you're not aware of the various rules, regulations, and multitudes of treatises and agreements prevailing in that country. Political Science encompasses all this and more. From every ordinance passed to every claim overruled, there's a significant trace of political theories and concepts involved in the decision-making.
To be a representative of governments, democracies, federations, communities, republics, and any civic body of people entails a deep understanding of the sentiments, practices and traditions in the milieu to make decisions that are reliable, inclusive and non-discriminatory of social beliefs/groups.
If politics is something you're passionate about, there is no destination more qualified than the UK to help you learn the intricacies and challenges involved in managing public affairs and international politics. Let's see why to choose University of Essex to study polical science in the UK.
Why Study Political Science in the UK?
The UK is one of the best countries to pursue a career in politics and international relations. Political science graduates in the UK have strong career prospects, with 96% of them employed or pursuing further study within 6 months of graduation. Here are more reasons to study politics in the UK:
1. Internationally Recognised Qualifications

Political degrees in UK universities are globally recognised and valued because of their quality and research-focused curriculum. The UK is home to famous politicians, diplomats, ex-pats and professionals. Indonesian Human Rights Commissioner Roichatul Aswidah who graduated in Essex and Senior Journalist Desi Anwar are just some famous Indonesian personalities who have graduated from the best UK universities, making it one of the best destinations to study in, analyse and understand the intricacies of world politics and global power play.
2. Expert Teaching

With experts well-versed in all aspects of politics and international affairs, studying in the UK paves the way for specialising in multiple aspects of governance, including law, political science, international relations, public administration, environmental politics, economics, sociology, and history.

Expert faculty and cutting-edge infrastructure enables students to gain deeper insights into the practical difficulties involved in handling the socio-political affairs of the state and the modus operandi of different government bodies.
3. Customisable Courses

Many universities offer customisable courses in politics where you can tailor the course to suit your areas of interest. Customising the course in a way that meets your academic and career objectives ensures that you land the career of your dreams upon graduating.

The UK is accommodative of multiple specialisations and enables you to excel in multiple career types including
Financial adviser
Improvement practitioner
Junior management consultant
Policy officer
Public relations and communication.
4. Helps Achieve Your Career Goals
A diplomat in a swanky suit or a charity administrator in an NGO, no matter your personal career goals, the UK has the resources to set them in motion. Top-notch guidance coupled with expert career counselling ensures you have the best study-abroad experience and a global lifestyle in the UK.
Why Choose the University of Essex For A Political Science Degree

Ranked 13th for politics (The Times and Sunday Times Good University Guide 2021), and ranked 2nd in the UK for research outputs in politics and international studies (Grade Point Average, REF 2021), the University of Essex is one of UK's most prestigious universities in political science and economy.
Here are more reasons why you should choose Essex for a Political Science major:
1. Specialist Facilities

Equipped with networked computers featuring advanced software for political analysis, the university promotes and facilitates experimentation and research in political studies and public affairs to develop well-researched solutions to complex and contemporary public issues.
2. Employability Skills

Studying this course equips you with an arsenal of corporate skills including analytical reasoning, research design, and report writing, all critical employability skills required for any career in the public and government sector.

Completing the course provides you with the opportunity to be employed in high-profile organisations, including, The Civil Service, Local Government, World Bank, The United Nations, NATO, and YouGov, to name a few.
As a political science graduate, you also have the opportunity to work as research fellows and academic staff in popular educational institutions in popular educational institutions such as Mannheim, ETH Zurich, Duke University, NATO/SHAPE, and the University of Amsterdam.
3. Seminars and Workshops

The university has frequently scheduled seminars and workshops on topics like social science, development, and an in-house forum called the THINK series for discussing contemporary topics from sex work to climate change and capitalism to the global population.The university also has other online programmes like the "Essex Explores" to discuss and understand challenging ideas and difficult questions in the socio-economic and political spheres.
4. PG-Taught Double Degrees

The university also provides postgraduate taught double degrees in Public Opinion And Political Behaviour with a course structure that allows you to pursue one degree in Essex and the other degree abroad, in any other prestigious institution. This adds value to your degree and enhances your competency in career prospects and further studies.
5. Scholarships and Funding

The university provides a range of scholarships and financial support to deserving candidates to help them manage the costs of studying abroad. From alumni loyalty discounts to studentships and research grants, the university offers a broad range of financial bursaries for students across different domains.