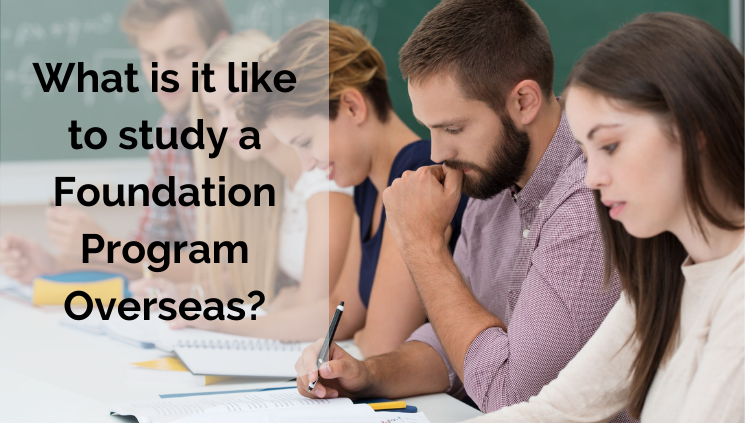 If you've ever felt the urge to lay a solid foundation before pursuing an undergraduate degree, then the foundation program overseas is for you.
Foundation programmes are defined as preparation or routes programmes that are designed to supplement any knowledge or qualifications that you may lack even after graduating from high school.
It is a big decision to study abroad, but arriving before the commencement of a university degree might offer you time to adjust and fit into academic and daily life.
By enrolling in a foundation program, you will become acquainted with university teaching methods, meet new friends, become familiar with your new home, and absorb the surrounding culture in a safe setting. Lectures will ease you into studying abroad, ensuring that you are confident and ready to begin your graduate degree.
Let's take a look at the foundation program!
What is a foundation program?
A foundation course is a program that will prepare you for a graduate or a postgraduate degree at any university. They are specifically designed for international students who want to study overseas, such as in the UK, US, Australia or any other European country.
The International Foundation Program helps students from different countries to blend with their university life and the student community from day one. This program is best for learners or beginners who need extra time to get used to a new study environment.
Now, are you wondering what is a 'foundation year' equivalent to?
A foundation year differs from a foundation degree. A foundation degree is a qualification equivalent to 2 years of a three-year graduate degree, while a foundation year gives you the academic and English skills to progress on to an undergraduate degree.
Here are some advantages of studying a foundation program overseas as an international student. Keep reading to learn more about them.
1. Make especially for international students
The foundation program is designed to address the needs of international students who are looking to study overseas.
It assures that as a student, you are academically and personally ready to progress to an English-taught degree at any university overseas. The program helps you to build the confidence that you need to succeed as well as tackle the unique challenges that an international student faces, such as adjusting to a new culture.
2. Increase in language proficiency
If English is not your native language, then studying in English can be quite daunting. But you don't have to worry about it!
You have a chance to advance your English speaking skills to meet university admission requirements. The foundation program for international students includes language courses, to help you communicate during your studies and in day-to-day life.
The Academic English Skills module will ensure you reach the required English level and make sure that you are proficient in reading, writing, listening and speaking so you can have a successful future at university or college.
Moreover, this will develop your academic writing, presentation skills and the ability to contribute to group discussions. Additionally, this will also help you to know what to expect when you start your degree.
3

. Better Skills & Confidence
First-year of foundation studies provides students with the opportunity to develop skills for tertiary studies in their particular field.
Students will learn how to complete assessment tasks and apply their specialized knowledge directly to a graduate degree. Students who complete a foundation program are more likely to adapt and cope better in their first year of tertiary studies.
4.

Bridge the gap between School the University
Education standards differ around the world frequently, from teaching methods to qualifications.
International foundation courses are designed in such a way to get all students up to the required standard for a graduate degree. This also includes building your knowledge on the subject you want to study through the subject-specific modules.
The core subjects will allow you to gain an understanding of the wider context in your chosen field of study. You will be taught in a similar environment to what you will be experiencing at the university to help you adjust to the university style of learning.
5. Setting the right mindset
Generally, international students choose a foundation program to take a pre-bachelor or pre-master in order to prepare themselves mentally for their 1st year of studies overseas. Moreover, it is much easier to get going if you already know your location and some of your friends.
Studying overseas isn't only about getting a great degree, it's also about experiencing and exploring a new culture and way of life different to your own. So, a firm foundation program will offer lots of opportunities to experience local culture and get involved in student organisations. Moreover, you will also get your university student card, and with it, you will be able to access the university's facilities, clubs and societies.
Need to know more information about foundation programs overseas? If yes, then talk to our educational experts for better guidance!