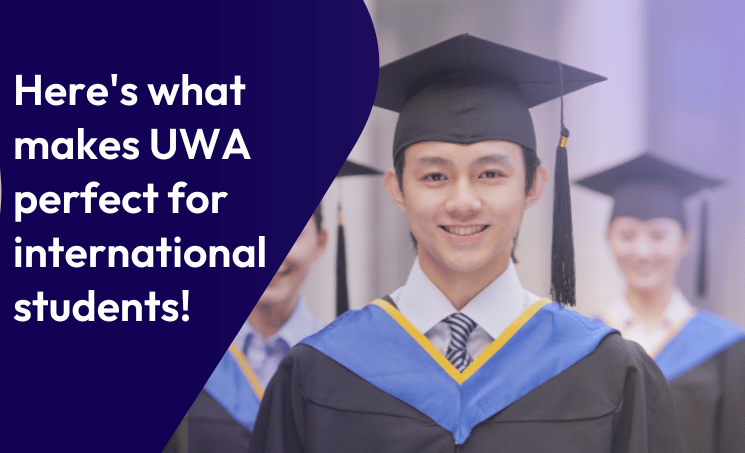 Living the Australian dream is not overrated, and for a good reason. With 7 of its universities in the top 100 QS World Universities rankings, the Australian education system is as top-notch as ever.
From research infrastructure, teaching efficiency, to holistic development - Australia has it all. One such top 100 university that is known for its research efficiency and teaching quality is the University of Western Australia. Located amidst beautiful beaches and natural landscapes in Perth, the university offers an unforgettable study experience.
Let's discuss the top reasons to study in the University of Western Australia, upcoming intakes, scholarships and how to get started with applying to the university as an international student.
5 Reasons Why the University of Western Australia is a Great Choice for International Students

Consistently placed in the top 100 universities in the QS World Universities rankings, the University of Western Australia (UWA) is highly ranked for its strong research programs and world-class facilities. Here are more reasons why it would be a great choice for international students:
1. High-quality Education:

Rated 5 stars for teaching quality, UWA is one of the top universities in Australia for its research-oriented courses and high-quality education across a range of disciplines.
One of the prestigious Group of Eight institutions, the university is well-known for its focus on practical learning and research outcomes.
With a student to faculty ratio of 19:1, the university provides optimum focus to individual students ensuring they receive an education that is both rigorous and up-to-date.
2. Wide Range of Programs:
UWA offers a wide range of undergraduate and postgraduate programs, including arts, business, engineering, law, medicine, and science. This makes it a great choice for international students who want to pursue a specific area of study or who are looking for a diverse range of options.
With over 75 state-of-the-art teaching and research facilities, the university also has a sprawling library to provide students with an unparalleled academic experience.
Further, to make students future-ready, the university strategizes its course structure based on a global model of practical learning supplemented by industry-relevant theories and solution-driven approaches.
3. Excellent Student Support:
The University of Western Australia offers a wide range of student support including academic and personal well-being services such as, course advice, online learning tools, counselling and psychological services, safety and security, etc., to ensure the students have a hassle-free and enjoyable academic experience.
With free academic skills programs and student societies, the university enables cross-learning of different study techniques, time management, writing, communication, and research skills.
The university has a dedicated international student support wing to assist present and future international students to help them with a range of support services including accommodation, course counselling, extracurricular activities, and part-time work opportunities.
4. Career Opportunities
UWA offers excellent career support services including career counselling, international student counselling, specialisation advice, etc., across an extensive range of undergraduate and postgraduate courses in multiple study areas such as Architecture and Design, Business and Commerce, Data and Computer Science, Education, Engineering, Health and Biomedical Sciences, Humanities and Social Sciences, Law, Music and Fine Arts, Natural and Physical Sciences and Psychology.
The university is ranked #1 in Western Australia for graduate employability (QS Graduate Employability Ranking) with 56% of its graduates finding full-time employment within 4 months of graduation.
With over 4,500 industry partnerships, the university offers graduates a terrific headstart to launch their careers.
5. Student Life at Perth
To study in one of the most livable cities in the world would be an experience to remember. Fancy yet familiar, Perth offers an affordable, quality lifestyle that enables international students to explore and have a good time during their study abroad journey.
The city is also home to the corporate headquarters of more than 30% of businesses on the Australian Stock Exchange and six of the world's top 10 energy giants, paving the way for more career opportunities for UWA graduates (ThinkPerth ).
The University of Western Australia Scholarships for International Students

| | |
| --- | --- |
| Scholarships | Details |
| Global Excellence Scholarship | Undergraduate students can receive scholarships of up to AUD 48,000 over 4 years on eligible courses or AUD 36,000 over 3 years; postgraduate students can receive up to AUD 24,000 over two years on eligible courses. |
| Global Sporting Excellence Scholarship | AUD 48,000 over 4 years on eligible undergraduate courses or up to AUD 24,000 over two years on eligible postgraduate courses. |
| International Student Award | AUD 5,000 per year fee reduction for students from a range of select countries including Indonesia. |
| UWA MBA Full Time International Achievement Scholarship | To encourage eligible high-achieving international students to undertake the MBA Intensive Program offered through the UWA Business School. |
| UWA International Postgraduate Research Scholarships | To attract top quality international postgraduate students to UWA's research strengths and support Australia's research efforts. |
Popular Courses in the University of Wstern Australia

Here are the most in-demand courses at UWA for international students:
1. Architecture and Design
Ranked in the top 100 globally for architecture by the QS Top Universities rankings by Subject, the university enjoys the best reputation among employers for architecture (QS World University rankings by subject 2020).
Learn from award-winning, internationally recognised teachers and architects and experiment your learnings at the Australian Urban Design Research Centre, an independent research centre within the university's School of Design.
Popular career choices include architect, architectural draftsperson, conservation officer, environmental consultant, environmental manager, geographer, land economist, landscape architect, etc.
2. Data and Computer Science
With industry developed courses and lectures from globally renowned experts, it's no wonder that UWA is one of the best universities for courses in data and computer science.
The university's computer science and data science majors are accredited by the Australian Computer Society.
Popular career choices include AI or cybersecurity specialist, business/data analyst, business intelligence architect, cyber security consultant, cyber forensic investigator, data and analytics manager, data architect/scientist, ethical hacker, game engine designer and developer.
3. Engineering
From biomedical, civil and mechanical engineering, to environmental, chemical, mining and software engineering, UWA offers an unparalleled student experience by providing students with practical skills and knowledge to adapt to and evolve with industry developments.
Popular career choices include biomedical engineer, chemical engineer, materials engineer, civil engineer, mining engineer, software engineer, automation lead and robotics system developer.
4. Health and Biomedical Sciences
UWA is #ranked 1st in Western Australia for Clinical Medicine Anatomy and Physiology and 24th in the world for Anatomy and Physiology.
With strong global collaborations and industry connections, the university provides medical students with advanced knowledge and practical exposure.
The university has cutting edge research infrastructure including health campuses, laboratories and e-learning suites to encourage research and experimentation.
Popular career choices include biochemist/molecular biologist, biodesigner, biomedical scientist, biotechnologist, clinical educator, forensic scientist, genetic counsellor and toxicologist.
5. Humanities and Social Sciences
UWA is #ranked 1st in Western Australia for full-time employment for undergraduates in Communication, Media and Journalism (Graduate Outcomes Survey).
The university is ranked 83.6% for skills development and 87.9% for teaching quality, making it one of the top choices in Western Australia for Humanities and Social Sciences courses. With industry experts to keep you updated on a wide array of essential skills such as creativity, originality and initiative, analytical thinking, complex problem-solving, critical thinking and analysis, leadership and social influence, and emotional intelligence.
Popular career choices include foreign affairs and trade officer, historian, intelligence analyst, media producer, parliamentarian, policy manager/adviser, public relations manager and translator or interpreter.
6. Natural and Physical Sciences
UWA is in the world's top 50 for Agriculture and Forestry, Earth and Marine Sciences, Geology, Geophysics(QS Rankings), and Agricultural Sciences, Ecology, Environmental Science and Engineering, Oceanography and Biological Sciences (ARWU).
The university offers specialised courses in a range of subject areas including, agricultural science, biotechnology, earth sciences, ecology, genetics, geology, marine biology, molecular sciences, wildlife conservation and more.
Popular career choices include scientist, ecologist, conservationist, marine biologist, biotechnology expert and marine engineer.
7. Psychology
UWA's Psychology school is one of the 2 psychology schools in Australia with research rating 'well above world standard' according to the ERA.
With facilities such as biological psychology and cognitive neuroscience, clinical psychology and clinical neuropsychology, cognitive science, developmental psychology, industrial and organisational psychology and human factors and perception, UWA offers students the cutting edge and practical knowledge to get career-ready.
Popular career choices include clinical psychologist, clinical neuropsychologist, health psychologist, forensic psychologist and social worker.
How to Apply to the University of Western Australia?
Research - Start by researching the entry requirements, tuition fees, and available scholarships.
Evaluate financial capability - Assess your financial position and evaluate your funding choices viz., scholarships, bursaries, student loans, etc., to prove your financial stability.
Application form - Check the university's website to download the application form and read the application to understand the requirements.
English language proficiency - Check the English language proficiency score requirements (IELTS, TOEFL, or PTE) for the course/university you're applying to.
Personal statement - Prepare a well-written Statement of Purpose to showcase your skills, experiences, and motivations for pursuing your desired program.
Submitting the application - Once you have completed the application form and gathered all the required documents, submit your application before the deadline.
How can AECC help?

You could be in a dilemma about which course to choose or how to get started with UWA. We hope this blog answers all those questions, but if you're still undecided, our team of expert counsellors will guide you on the best way forward for your academic and career goals. So grab your phone and give us a call, or just drop in your details and have our counsellors call you right away!
FAQs:

1. Why should I choose the University of Western Australia (UWA)?
UWA is a leading university with a strong reputation for academic excellence, research, and innovation. It has been consistently ranked in the top 100 universities worldwide and is a member of the prestigious Group of Eight universities in Australia.
2. What kind of student support services does UWA offer for international students?
UWA has a dedicated International Student Support team that provides a range of services to help international students settle into life in Perth and succeed in their studies. These services include airport pickup, orientation programs, academic support, counselling services, and social activities to help students make friends and get involved in the community.
3. Can I work while studying at UWA as an international student?
Yes, international students are allowed to work part-time while studying at UWA. The Australian government allows international students to work up to 20 hours per week during the academic term and full-time during breaks. UWA also offers a range of job opportunities on campus, which can be a great way to gain valuable work experience and earn some extra money.
4. What is the cost of living in Perth for international students?
Perth is known for its high quality of life and relatively low cost of living compared to other major cities in Australia. International students can expect to spend around AUD 20,000-25,000 per year on living expenses, which includes accommodation, food, transportation, and other basic necessities.
5. What are the career prospects for international students after graduating from UWA?
UWA graduates are highly sought after by employers and have excellent career prospects in Australia and around the world. UWA has a strong alumni network and provides students with opportunities to connect with industry professionals through internships, networking events, and career fairs.